Doctors & Staff
Meet the experienced and friendly doctors and staff who make Heinsight Eyecare a proud provider of vision care products and services in Milford.
---
Dr. Marla Hayden
Owner, Optometrist at Heinsight Eyecare in Milford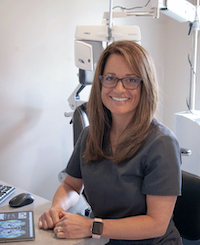 Dr. Marla Hayden became an optometrist for one simple reason: She loves to make a positive impact on the lives of other people. She's been doing just that for more than 20 years. Dr. Hayden is the proud owner and operator of Heinsight Eyecare.
Dr. Hayden grew up in southwestern Kansas and attended Kansas State University for her undergraduate degree. She moved to Chicago to attend the Illinois College of Optometry, where she earned her doctorate of Optometry and met her husband, Dr. Jeff Hayden. In order to be closer to his family, they moved to Michigan where Dr. Hayden practiced in Flint for 14 years. In 2015, Dr. Hayden purchased Heinsight Eyecare (formerly Heinsight Optical) in downtown Milford where she works as owner and lead optometrist. 
As a professional who prioritizes personalized and exceptional customer service, Dr. Hayden is passionate about providing her patients with the latest technologies, services, products, and expertise. She specializes in preventative health care, dry eye treatment, myopia management, multifocal contact, and more. Her decades of experience have allowed her to treat generations of patients who benefit from accurate diagnosis of and innovative solutions for all vision issues.
When not at work, Dr. Hayden is active in her community and is proud to support fellow local businesses. She serves as President of the Milford Rotary Club and is a member of the Huron Valley Chamber of Commerce as well as Fenton United Methodist Church. Her ongoing service includes multiple community projects, which often include the Heinsight Eyecare team. 
An avid reader and exercise enthusiast, she values time with her family. Along with her husband, who is the owner/optometrist at Cook & Hayden Vision Care Center in Brighton, they have three children who keep them busy with sports, activities, and treasured family adventures around the United States.
---
Dr. Janiece Mattice
Optometrist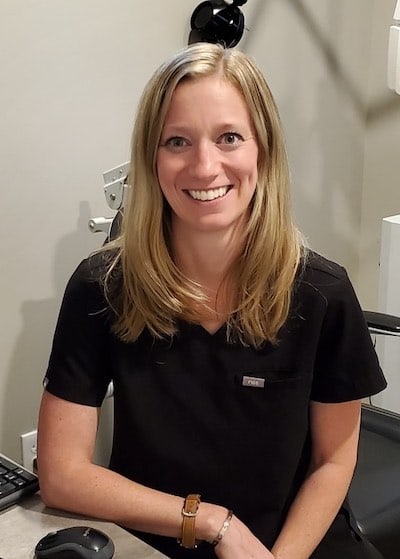 Dr. Janiece Mattice-Bober (she goes by Dr. Mattice – which rhymes with "nice") joined the Heinsight Eyecare team in August 2022 as an optometrist with more than 10 years' experience helping patients from around the state with their vision needs.
The Michigan native and new mom came to Heinsight from a four-location optometry company that serviced patients throughout Southeast Michigan. A Ferris State and Indiana University graduate, Dr. Mattice did her primary care residency at Henry Ford Health in West Bloomfield. There she focused on specialty contact lenses and corneal anterior segment disease (front of the eye).
As someone who "likes to fix problems," one of the primary reasons Dr. Mattice became part of the Heinsight family is because of its owner, Dr. Marla Hayden.
"I'm really excited to be here because Dr. Hayden loves technology, and she loves practicing full scope," says Dr. Mattice. "And that's what I want – to work alongside someone who doesn't just say it, but she actually does it!"
When not at work, the Bad Axe, Michigan-native and her husband spend most of their time taking care of their newborn son, a new puppy, and rescuing senior dogs. She also enjoys reading fiction (suspense and mystery), gardening, volunteering in the community, and training to be a yoga instructor.
---
Amy
Office Manager/Optician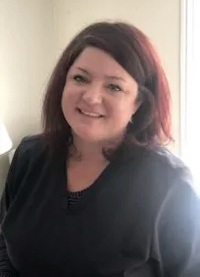 With 22 years optical experience, Office Manager Amy is not only essential to Heinsight Eyecare's day-to-day operations, she's also an Optician who makes it her mission to ensure patients look, see, and feel their best.
"Being a part of Heinsight for over 15 years has given me the opportunity to watch families expand and children grow up through the years," says Amy. "It makes me feel like I'm part of their family! That is just one of the many reasons this is more than a job, it's about connecting and creating these experiences."
Originally from Wolverine Lake, MI, Amy spends her time fishing in the backyard, heading north to go quad riding on the trails of Gladwin, and making memories with the four children she shares with her husband of more than 10 years.
---
Julie
Optician/Optical Manager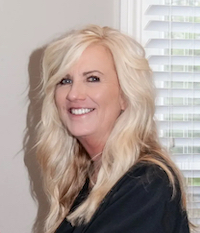 As a certified Optician for more than 30 years, Julie is committed to giving each patient personalized service and making sure they love their glasses and experience at Heinsight Eyecare.
 "I love staying informed of the latest styles and technology in the world of optometry to be able to best take care of our patients," says Julie. "I also look forward to coming to work each day because we have the best patients – it's like a family and friends get together!"
Originally from Bay City, MI, Julie cherishes her time with family and friends. Along with her husband, they have four grown children so they enjoy staying active outdoors biking, walking, and playing tennis as well as traveling.
---
Kim
Optician/Eyewear Specialist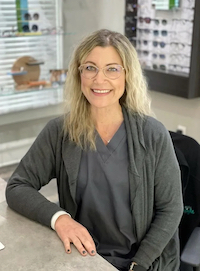 As an Optician/Eyewear Specialist, Kim plays a key role in our patients care and experience by assembling a lens and frame solution that meets the highest standards of quality and vision that you have come to expect at Heinsight Eyecare. 
"I love the rapport I am able to build with our patients, because to us, they are family," Kim says. "Nothing puts a bigger smile on my face than seeing a young patient excited to put on glasses for the first time!"
Originally from Canton, MI, Kim has been in optometry for more than two decades. When not working, she enjoys a health-driven lifestyle that includes working out, cooking healthy food, biking and golfing. She also values spending time with her family and her fur baby, Marley.
---
Sandy
Front Desk/Patient Care Coordinator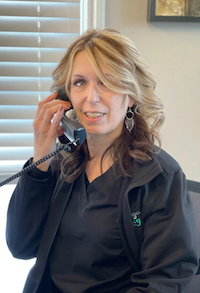 As a Front Desk/Patient Care Coordinator, Sandy is one of the first faces and voices you encounter at Heinsight Eyecare. Whether it's a question, an appointment that needs scheduling, glasses to be picked up, or just a friendly welcome, she's ready to help.
"I love being part of a great team," Sandy says. "Our goal every day is to make sure that every patient's visit is a positive, memorable one and that they have the valuable experience and service that is unique and special to them."
Originally from Sterling Heights, MI, Sandy came to optometry after 25 years of retail and customer service experience. She enjoys decorating, creating crafts, hiking, kayaking and dancing. She also is the proud mother of three, grandmother of five, and mom to her fur baby, Lumen. 
---
Saphire
Optical Technician/Optical Assistant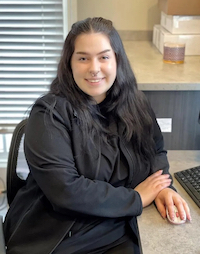 As Heinsight's Optical Technician and assistant, Saphire brings her diverse experience as an optical technician, biller, and receptionist to help patients on their initial eye exams, deal with insurance questions, and so much more.
"I really value being able to learn new things each day here whether it's from our doctors, the Care Team, or our patients," says Saphire. "Going into my second year in the eye care field, I'm confident in and grateful for the knowledge I now have in a variety of topics – and to be able to share that with our patients!"
Originally from Flint, MI, Saphire is the oldest of six children who enjoys hiking and playing video games in her spare time.
---
Cyndi
Insurance Biller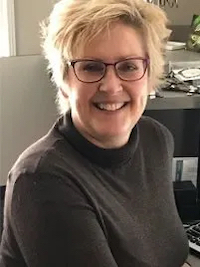 As Heinsight Eyecare's go-to specialist for anything insurance or billing related, Cyndi brings more than 20 years of experience in administration and the optical business. Her broad range of skills means she's an asset behind the scenes with billing and office administration as well as in office greeting customers or assisting in exam rooms.
"It sounds crazy but I love billing! It has always been my favorite," says Cyndi. "I am very lucky to have the opportunity to do what I love."
Originally from Brighton, MI, Cyndi enjoys reading, fostering animals for her friend's rescue, and hiking.
---